On February 10, 2020, Copper Fox through it wholly owned subsidiary Northern Fox Copper Inc., announced its intention to acquire (subject to regulartory approval) a 100% interest in the Eaglehead porphyry copper project (15,956 ha) located in the Liard Mining District in northern British Columbia. The acquisition of this exploration stage project adds to the company's project pipeline and allows the Company the opportunity to resume copper exploration in northern British Columbia, an area with which Copper Fox is very familiar.
Northern Fox Copper Inc., owns 24.3% of the issued and outstanding shares of District Copper Corp.
District Copper owns a 100% working interest in the Stony Lake gold project located in Newfoundland, a 50% joint venture interest in the Matachewan gold project in Ontario and a 100% working interest in the Eaglehead copper-molybdenum-gold-silver project in British Columbia.
Stony Lake Project:
Stony Lake covers 13,025 ha over a 27 km strike length of the Cape Ray/Valentine Lake structural trend in central Newfoundland, Canada's newest emerging orogenic gold district. The Stony Lake project is underlain by Botwood Group sedimentary rocks that overlie the Cape Ray/Valentine Lake structural trend. The 2019 exploration results indicate that the Stony Lake project has potential to host several styles of gold mineralization including sediment hosted intrustion related; high-grade quartz vein; (Sokoman Minerals Corp. and Antler Gold Inc.) and intrusion related (Marathon Gold Corp.).
The 2019 mapping and prospecting program outlined 8 areas of anomalous to low grade gold mineralization (greater than 50 to 4,026 ppb) hosted in pyrite and arsenopyrite bearing altered Botwood Group sediments and Quartz Feldspar Porphyry dikes that intruded the Botwood Group sediments. The mineralization is characterized by varying intensities of sericite, silica, ankerite, carbonate and chlorite alteration.
Compilation of the 2019 field program and the airborne geophysical survey indicates that the Botwood Group sediments have been intruded by Quartz Feldspar Porphyry dikes and overlies the Cape Ray/Valentine Lake structural trend. The geophysical survey mapped the bedrock geology/structures/intrusives below the Botwood Group and the location of the Cape Ray/Valentine Lake structural trend along the western side of the project area. All areas of anomalous to low grade gold mineralization within this corridor show a positive correlation to regional scale NE trending interpreted fault zones. The other areas of anomalous gold geochemistry located within the property identified by historical exploration (but not explored in 2019) also exhibit a strong correlation with regional scale positive magnetic features. The compilation identified several targets for mapping, prospecting and rock characterization work in 2020 in the central and southern portion of the property.
Matachewan Gold Project:
The Matachewan Gold project is a 50:50 joint venture with O3 Mining Inc. (formerly Alexandra Minerals) and District Copper, with O3 acting as Operator of the Joint Venture. The project covers 1,328 ha located in the Timiskaming Mining District in Ontario, approximately 5 km east of Alamos Gold Inc's Young-Davidson gold mine. The property is subject to a 3% net smelter royalty on production.
Eaglehead Project:

The Eaglehead copper-molybdenum-gold-silver project (15,956 ha), an exploration stage project is located in the Liard Mining District in northern British Columbia. District Copper placed the project on care and maintenance in late 2018 and conducted no exploration on the property in 2019.
Between 2014 and 2018, District re-logged 94 historical diamond drill holes (26,248m), sampled, re-sampled and re-analyzed 22,697m of drill core from 99 historical drill holes, completed airborne and ground geophysical surveys, preliminary rock characterization testwork and drilled six diamond drill holes (3,413m) to test the continuity of the copper-molybdenum-gold-silver mineralization in the East, Bornite and Pass zones.

Representative mineralized intervals from the various zone located within the property are set out below. (Note: The mineralized intervals below do not represent true widths)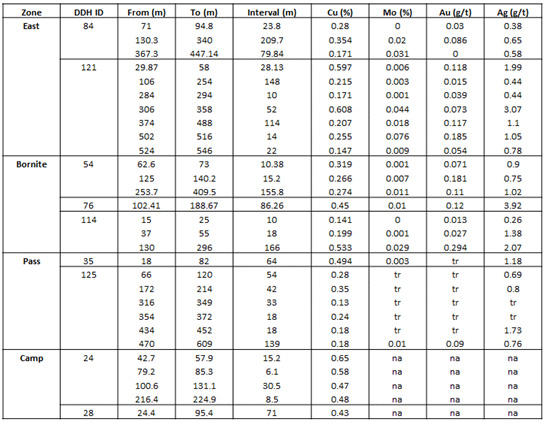 Preliminary Metallurgical Testwork
In 2015 and 2016; preliminary rock characterization ("metallurgical") testwork on mineralized lithologies over a range of copper grades showed that all samples responded well to conventional copper-molybdenite flotation producing a clean concentrate product with recoveries of 89.9% copper, 71.1% molybdenite, 78.6% gold, and 78.1% silver.

In 2017, Copper Fox prepared a report entitled "NI 43-101 Technical Report on the Eaglehead Project" with an Effective Date of July 10, 2017; Robert A. (Bob) Lane, M.Sc., P.Geo. as Qualified Person. The conclusions and recommendations of the Technical Report are summarized below.
The Project is at the early to intermediate stage of exploration and hosts a calc-alkalic porphyry copper-molybdenum-gold-silver system of significance.
A multi-parameter exploration program estimated to cost $4.95 million is warranted to more fully evaluate the potential of the Project to host an economic calc-alkalic porphyry Cu-Mo-Au-Ag deposit.
The proposed recommended exploration program includes among other activities 11,000m of drilling, preliminary metallurgical testwork and geophysical surveys.
Six zones of copper-molybdenum-gold-silver mineralization occur within a prospective, mineralized corridor (0.5-1.5km in width and in excess of 8km long) characterized by:
- a belt of moderate magnetic response with small, irregular-shaped moderate-to-high magnetic features that coincides with the western margin of the Eaglehead pluton;
- a 10km long, semi-continuous copper soil geochemical anomaly;
- a 6km long, open-ended chargeability-high anomaly, within which five zones of copper-molybdenum-gold-silver mineralization are located. This anomaly averages 900m wide and is open below a depth of 500m;
- a Far East zone, located approximately 3,000m from the end of the chargeability anomaly, exhibits several mineralized drill holes and a 1,000m by 1,000m copper and molybdenum soil geochemical anomaly;
- moderate-to-intense potassic (principally K-feldspar), pervasive phyllic (sericitic) and late propylitic alteration of the mineralized intrusive host rocks;
- multiple phases of mineralization, consisting primarily of chalcopyrite and bornite with minor molybdenite in quartz veins, quartz stockworks, and zones of fracturing and brecciation; and
- drilling has intersected good grades of copper-molybdenum-gold-silver over narrow-to-wide intervals (ranging from 1.5 to 521.2m) in 120 of 126 holes completed to-date
In 2018 District completed the re-logging, sampling and re-sampling of the remaining historical diamond drill holes from the East, Bornite, Pass and Camp zones. This work completes the process of cleaning up the "legacy data" issues related to the Eaglehead project. The 2018 analytical results did not materially change the previously reported analytical results for the drill holes re-sampled in 2018.