Copper Fox Prepares for Geophysical Survey at Mineral Mountain Copper Project
Calgary, Alberta–(Newsfile Corp. - April 19, 2023) - Copper Fox Metals Inc. (TSXV: CUU) (OTCQX: CPFXF) ("Copper Fox" or the "Company") and its wholly owned subsidiary, Desert Fox Copper Inc. ("Desert Fox"), are pleased to provide an update on the recently completed mapping program in advance of the planned geophysical survey on its 100% owned Mineral Mountain copper project located approximately 25 kilometers (15 miles) east of Florence, Arizona (See News Release Dated March 30, 2023). Highlights of the mapping program are set out below:
Highlights
Copper mineralization occurs primarily in Quartz-Kspar-Hematite, Quartz-Hematite, Quartz and Hematite veins hosted in Potassic altered porphyritic quartz monzonite.
Fracture-controlled, chalcopyrite-pyrite mineralization (trace amounts) occurs within the quartz monzonite on the margins of the main zone of copper mineralization.
The "pipe like" positive magnetic features identified by the 2022 airborne magnetometer survey are due to a significant increase in magnetite content in the porphyritic quartz monzonite.
The positive magnetic signature associated with the two potential targets along strike of the main zone of mineralization are attributed to discrete zones of increased magnetite content in the Pinal Schist and the Laramide intrusive.
The mapping located several occurrences of copper mineralization cross-cutting late-stage aplite and granodiorite dikes that suggest the introduction of several episodes of copper mineralization.
Elmer B. Stewart, President, and CEO of Copper Fox, stated, "The copper-magnetite (hematite) association and the discovery of chalcopyrite/pyrite mineralization on the margin of the Laramide intrusive supports the exploration model of a gold-molybdenum enriched porphyry copper system. The distribution and strong spatial association between the zones of copper mineralization and potassic alteration within a broader zone of pervasive Sericite-Chlorite alteration suggests 'leakage' along faults and fractures from a buried porphyry system. Incorporation of the data from the recent program into the project database is underway and an updated compilation is expected to be completed in advance of commencing the geophysical survey."
Geological Model
Mineral Mountain is a copper (gold-molybdenum) rich porphyry system characterized by a strong copper-magnetite association that has been subjected to several episodes of weathering/oxidization/supergene enrichment, a process commonly observed at porphyry copper systems in Arizona. These weathering/oxidization/supergene episodes have transformed the primary copper mineralization (chalcopyrite-chalcocite and possibly bornite) to secondary copper minerals, specifically, malachite, chrysocolla and chalcocite and the magnetite to hematite. The mineralization is hosted in a porphyritic quartz monzonitic phase of the Laramide age intrusive (69.7 +/- 0.4 Ma; U/Pb zircon) associated with strong potassic alteration (Kspar-biotite-magnetite) contained within a broader zone of Sericitic-Chlorite alteration. Propylitic (epidote + chlorite + calcite) alteration has been observed within the potassic and sericitic alteration but is primarily located on the margin of the Sericite-Chlorite alteration. The mineralization and alteration show a strong spatial correlation to several "pipe like" positive magnetic signatures attributed to early stage potassic alteration.
Mapping Program
The mapping was completed within a 50-meter wide (approximate) corridor along the trace of the proposed geophysical lines recording lithologies, alterations, style of mineralization and various types of vein assemblages. Porphyritic (hornblende, feldspar, quartz phenocrysts) quartz monzonite is the main intrusive phase cut by late stage porphyritic (hornblende, feldspar, quartz phenocrysts) dikes of dacite and latite composition. The mapping identified seven types of veins; four of which carry copper mineralization.
The mineralized veins are extensively leached due to the weathering/oxidization cycles leaving only remnants of malachite, chrysocolla and secondary chalcocite within the veins. The copper mineralization is primarily hosted in Quartz-Kspar-Hematite veins, Quartz-Hematite veins, Quartz veins and Hematite veins and occasionally as disseminated malachite within the porphyritic quartz monzonite intrusive. Non-mineralized Quartz veins, Kspar veins and Quartz-Calcite veins were also observed. Trace amounts of chalcopyrite and pyrite occur coating fractures and as dissemination in the porphyritic quartz monzonite marginal to the main zone of secondary copper mineralization along the eastern side of the Laramide intrusive.
The Sericite-Chlorite alteration is evidenced by moderate to intense white sericite and locally light green sericite. Propylitic alteration typically occurs as apple green epidote in discrete veinlets, along fracture surfaces and on the edges of feldspar grains.
Target Investigation
Northeast Target: Mapping and prospecting located three discrete areas of increased magnetic susceptibility due to fine-grained magnetite in the Pinal Schist. The reason for these increased concentrations of magnetite is unknown at this time. The mapping and prospecting did not locate porphyry style copper mineralization.
Southwest Target: Mapping in this area located several mineralized Quartz-Kspar-Hematite and Quartz-Hematite veins.
Magnetic Susceptibility Measurements
Several magnetic susceptibility measurements were taken at each outcrop and then averaged to arrive at an average value for that outcrop. A Terraplus KT-10 Magnetic Susceptibility Meter was used to collect the data. Data output was recorded in meters x kilogram x seconds x 10-6.
Elmer B. Stewart, MSc. P. Geol., President, and CEO of Copper Fox, is the Company's non-independent, nominated Qualified Person pursuant to National Instrument 43-101, Standards for Disclosure for Mineral Projects, and has reviewed and approves the scientific and technical information disclosed in this news release.
About Copper Fox
Copper Fox is a Tier 1 Canadian resource company listed on the TSX Venture Exchange (TSXV: CUU) and the OTC Market (OTCQX: CPFXF) focused on copper exploration and development in Canada and the United States. The principal assets of Copper Fox and its wholly owned Canadian and United States subsidiaries, being Northern Fox Copper Inc. and Desert Fox Copper Inc., are the 100% ownership of the Van Dyke oxide copper project located in Miami, Arizona and the 25% interest in the Schaft Creek Joint Venture with Teck Resources Limited on the Schaft Creek copper-gold-molybdenum-silver project located in northwestern British Columbia. For more information on Copper Fox's other mineral properties and investments visit the Company's website at copperfoxmetals.com.
On behalf of the Board of Directors
Elmer B. Stewart
President and Chief Executive Officer
For additional information contact: Jason Shepherd at investor@copperfoxmetals.com or 1-844-464-2820
Neither the TSX Venture Exchange nor its Regulation Services Provider (as that term is defined in the policies of the TSX Venture Exchange) accepts responsibility for the adequacy or accuracy of this release.
Cautionary Note Regarding Forward-Looking Information
This news release contains forward-looking statements within the meaning of the Section 27A of the Securities Act of 1933 and Section 21E of the Securities Exchange Act of 1934, and forward-looking information within the meaning of the Canadian securities laws (collectively, "forward-looking information"). Forward-looking information is generally identifiable by use of the words "believes," "may," "plans," "will," "anticipates," "intends," "budgets", "could", "estimates", "expects", "forecasts", "projects" and similar expressions, and the negative of such expressions. Forward-looking information in this news release includes statements regarding; copper mineralization, "pipe like" positive magnetic features; potential targets; and several episodes of copper mineralization; completion of geophysical survey to map chargeability and resistivity signatures; and exploration of the project.
In connection with the forward-looking information contained in this news release, Copper Fox and its subsidiaries have made numerous assumptions regarding, among other things: the geological advice that Copper Fox has received is reliable and is based upon practices and methodologies which are consistent with industry standards; and the reliability of historical reports. While Copper Fox considers these assumptions to be reasonable, these assumptions are inherently subject to significant uncertainties and contingencies.
Additionally, there are known and unknown risk factors which could cause Copper Fox's actual results, performance, or achievements to be materially different from any future results, performance or achievements expressed or implied by the forward-looking information contained herein. Known risk factors include, among others: the geophysical survey may not be completed as planned or at all; the interpretation of the "pipe like" features may not be accurate or as interpreted; further exploration of the property may not be completed as planned or at all; the dimensions and shape of the mineralized areas may not be as estimated; the surface mineralization may not represent porphyry of supergene mineralization or a buried porphyry style mineralization; uncertainties relating to interpretation of the outcrop sampling results; continuity and concentration of the mineralization; the financial markets and the overall economy may deteriorate; the need to obtain additional financing and uncertainty as to timely availability of permits and other governmental approvals.
A more complete discussion of the risks and uncertainties facing Copper Fox is disclosed in Copper Fox's continuous disclosure filings with Canadian securities regulatory authorities at www.sedar.com. All forward-looking information herein is qualified in its entirety by this cautionary statement, and Copper Fox disclaims any obligation to revise or update any such forward-looking information or to publicly announce the result of any revisions to any of the forward-looking information contained herein to reflect future results, events, or developments, except as required by law.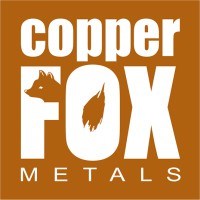 To view the source version of this press release, please visit https://www.newsfilecorp.com/release/162909